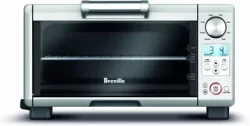 Are you looking for a high-quality smart oven? Here's our full review of Breville BOV450XL Smart Oven and why you should buy this oven.
About Breville
Over several years, Breville has become an increasingly popular brand because of its quality and smart engineering products. It has earned a large number of customers who trust and prefer Breville for their kitchen needs. Breville's customer service, along with its highly ingenious and advanced appliances in an incomparable combo that you cannot miss out in.
Since the year 1932, this brand has been working tirelessly to ease the consumer base's guesswork and bring luxury into their lives. During World War II, Breville focused on making radios and then delved into mine detectors. They had successfully started to manufacture televisions, which was later sold in 1955. Today, Breville uses the same dedication and intelligence to focus entirely on kitchen appliances such as coffee makers, kettles, microwaves, and ovens. This brings us to the guide that has been gone through decades of company development and years of hard-work to exist and help people today.
Quick Facts
97% Funkction
93% Design
96% Reliability
96% OVERALL
Breville BOV450XL Smart Oven: Full Review
The Breville BOV450XL Mini Smart Oven lives up to its name and offers the product's highlight, which is the Smart Element heat. It distributes heats evenly and ingeniously across the four quartz and avails superfast preheating with the 1800W power. It allows you to cook food in less time, thoroughly, and without any unwanted hot spots. The overall construction of this smart oven has been engineered with the convenience of the customer in mind.
It comes in a compact body – the perfect size for a toaster oven, neither too big nor too small – and is great for small living spaces. This Breville BOV450XL smart oven is highly convenient and efficient as it can accommodate the customer's needs with ease. It remembers the last setting fit into its system and takes the guesswork out of your busy day. You can push one button to reach a result, which would take up a lot of your time with a regular oven. Let's go through some of its primary features in detail.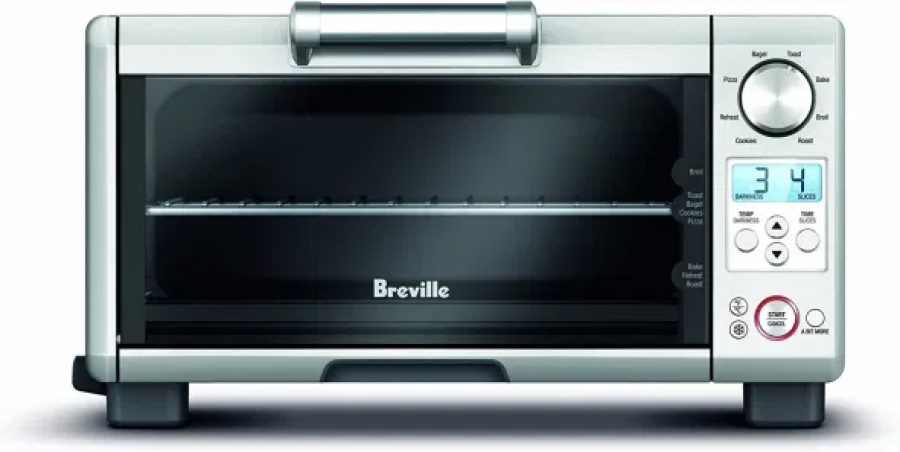 Features of Breville BOV450XL Smart Oven
8 Cooking Functions: There are eight pre-sets that you can use to cook with by clicking just one button. Choose from the vast options – Cookies, Broil, Bake, Bagel, Pizza, Toast, Roast, and reheat. It saves you a majority of time wasted on manually setting temperature
Smart Element IQ System: A regular heating system may heat your food, but smart heating accommodates to the food temperature, ensures even heating across four quartz of 1800W power, and preheats quickly
LCD Display: The backlit LCD Display is easy to read and allows you to have constant access to important information about the oven, such as calculating the correct time and the temperature. While cooking, it lights up orange – letting you know it's in use from afar, and when the cycle is complete, it turns blue
Auto Shut-off: This helps people who are often forgetful or have somewhere to be with the food in the oven. The auto shut-off, as the name suggests, shuts the oven off after the cycle is complete and goes into Keep Warm mode
Compact: This smart oven's size is perfect for small or tight living spaces and is extremely easy to store or carry. It allows you to have more kitchen space for you to work freely
Non-stick interior: This feature allows you to cook without using a lot of greases, but most importantly, it saves you extensive cleaning time by preventing the majority of the food from sticking on the surface due to the non-stick coating
After understanding the product in detail, it is also vital for us to know the advantages and disadvantages associated with it when you actually use it.
Pros of Breville BOV450XL Smart Oven
The crumb tray is easily removable, with three racks for you to fit enough food.
Smart Element IQ for heat transfer across four quartz elements for stable and precise heating.
Superfast 1800W power preheats the oven quickly.
The Backlit LCD helps you to read the settings easily.
The LCD turns orange when in use and blue when not in use, making it easy for you to know whether your oven's ON/OFF mode.
The eight-cooking features to choose from to avoid wasting time in manual setting every time.
It has a compact size and is easily portable and convenient to store.
The spacious interior which can fit up to 11 inches of pizza and four big slices of toast.
The non-stick coating in the walls of the inside to make cleaning easier for you.
It is convenient to use because it is equipped with extremely functional dials.
Auto-shutoff lets you work without worry about the food in the oven.
Cons of Breville BOV450XL Smart Oven
The non-stick coating can start to wear off after vigorous cleaning, so make sure not to use steel scrubbers
The dials, instead of LCD touch screen controls, may not be to the liking of some people
Should You Buy Breville BOV450XL Smart Oven?
Yes, of course!!!
This Breville BOV450XL Mini Smart Oven is great for small living spaces and proves to be a useful appliance in your kitchen. Rather than crowding your kitchen slab with multiple appliances, get this mini-oven, which can satisfy all your needs. The LCD is extremely easy to read and holds important information which you would want to know at the moment.
There are dials instead of button controls, which are easy to grab unto and turn. This product's highlight is the Smart Element IQ System with smart heat across four quartz elements and 1800W of power that allows you to cook food evenly and precisely, with stable heat over the food to prevent hot spots.
Our Verdict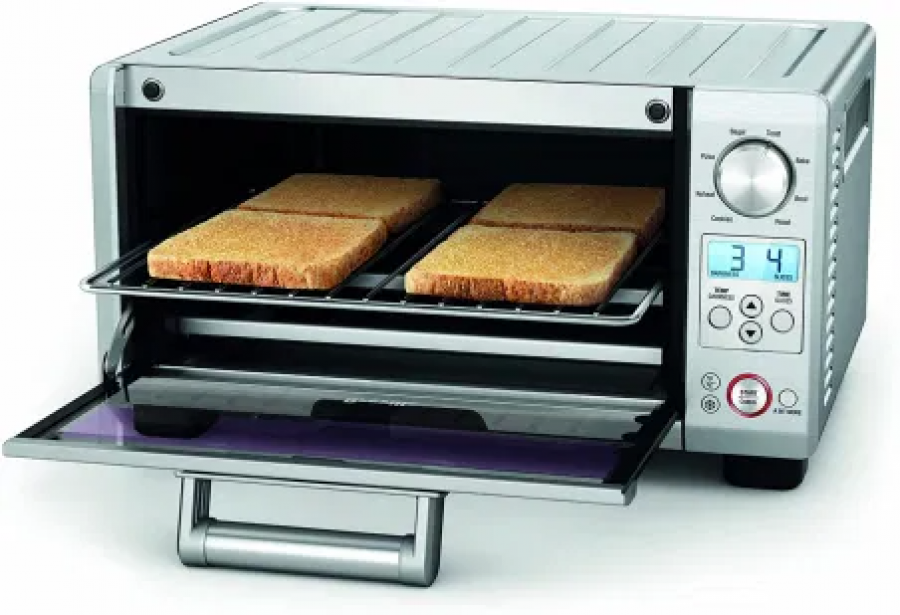 Breville has proved time and time again to be a trusted brand that provides the best for its customers. This Breville BOV450XL Mini Smart Oven is like any other and proves that it is a perfect partner for your kitchen with its ingenious features and convenient construction. Investing in this product will be highly beneficial for you.

Talya Davis
Talya, like all members of the HomeDesignX team, is enamored by all things related to cooking and eating. She's written cookware articles for numerous publications before working with her lifelong friend Jessica to create their very own website on cookware.
She's currently writing a book on induction cooktops, and enjoys making clean, vegan meals for her family.