2nd Best Choice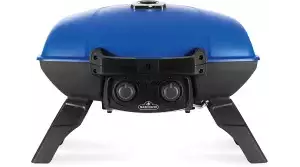 Napoleon TravelQ TQ285 Portable Gas Grill
Check Latest Price
Editor's Choice

Weber Q 2200
Check Latest Price
3rd Best Choice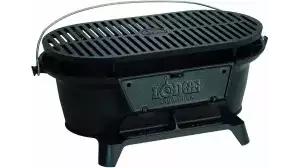 Lodge L410 Pre-Seasoned Charcoal Grill
Check Latest Price
Summer is upon us and, with it, the desire to go out with our family and enjoy a nice day at the lake or a whole weekend camping with our friends.
Spending a nice afternoon outdoors is always a wonderful idea, but do you know how you can make those outings even better?
Portable grills!
Portable grills allow you to take the fun of a BBQ to the outdoors, making a camping or fishing trip a lot more enjoyable, as you'll enjoy all kinds of delicious foods with every meal you have.
Of course, choosing the best portable grill isn't always easy and with that in mind, we've created this small guide to help you:
Things to Consider Before Purchasing a Portable Grill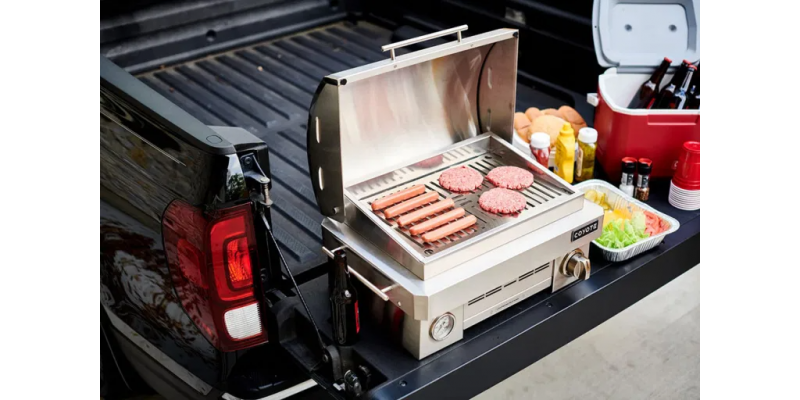 If you've ever purchased a grill, you know there are plenty of things you need to consider and the same goes for portable grills.
In fact, this is even more important for portable grills because, once you're in the field using it, there's no running to a store to buy attachments or tools.
When looking for a portable grill, keep the following things in mind:
Use
Yes, you're looking for a portable stove because you plan on using it away from home. That much is obvious.
However, using a portable stove in a camping site is completely different than using it in the wilderness, and the same goes if you're looking for a portable stove for a small balcony or roof garden.
Knowing what kind of use you plan to give your portable grill will help you decide what to prioritize: Portability, power, comfort or looks.
Size
Size plays an important part not only in transportability and comfort but also in how much food you're going to be able to cook.
If you're only planning to cook for yourself and maybe two people more, you can get away with a grill, which means the more portable designs are perfect for you.
If you're planning on cooking for an entire group, then the largest models are the way to go, but those are always heavier and more cumbersome than smaller grills.
You should also keep in mind that the larger the grill the more fuel it will use, which is an important consideration.
Fuel
While we're on the subject of fuel, knowing what kind of fuel you're more comfortable using or which one will be easier to take to where you're going is important.
Gas, charcoal or wood, they all have advantages and disadvantages that you need to keep I mind.
These 3 things will go a long way towards choosing the right grill for you.
Things to Keep In Mind Before Purchasing a Portable Grill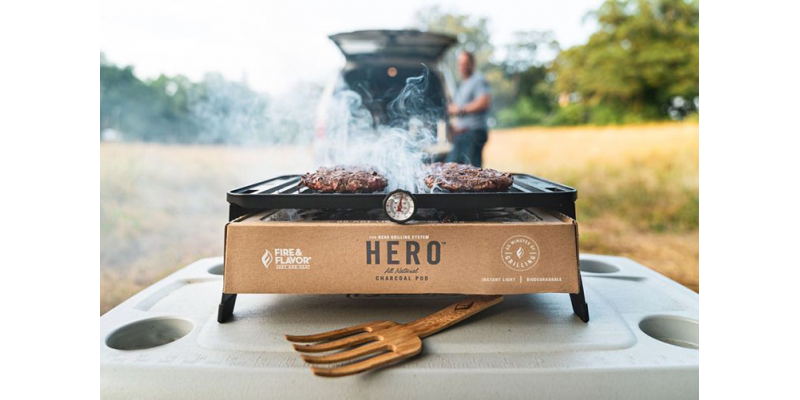 You now know the main three things to consider when looking for a portable grill but that's far from the only thing you need to know.
When looking for a grill, you'll run into a bunch of terms that may seem confusing or accessories and parts you're not sure you'll need or not.
The following list is here to help you sort out all that:
Burners
If gas is your fuel of preference, make sure to always look for stainless steel or brass burner, as these materials will last the longest.
Cast iron or aluminum may seem like a good idea at first, but they don't work well in the long run.
Make sure your grill comes with a metal deflector to keep your burner free of grease. If your grill doesn't have one, consider purchasing or even making your own.
Ignition
If you've chosen coal or wood as your fuel of preference, the ignition will always be manual, so make sure you know how to do that.
If gas is your fuel of choice, then you'll be glad to know that many models come with a "push button to ignite" function that makes using them simpler than ever.
If your preferred grill has this function, make sure it also has a manual ignition mode, just in case the automatic one fails.
Temperature Control
Any grill aficionado can tell you that being able to control the temperature in your grill is crucial for having delicious results.
Unfortunately, not every portable grill gives you the opportunity to do this, so look for a product that gives you at least a little control over the temperature you're cooking with.
Grates
Plainly speaking, there's no grilling without a grate so it pays to know what each material can help you with and their downsides.
Chrome: This is the cheapest material as well as the most lightweight. They're not very good at heat retention or conductivity and tend to create hot spots and burnt areas.
Stainless Steel: Easy to clean and excellent at heat conductivity, this material can be quite heavy, which will add some pounds to your grill.
Cast Iron: Non-stick and the best at heat retention, cast iron is a traditional material that produces great results, but needs special care to avoid rusting and weighs even more than stainless steel.
Ceramic: Not the most widespread material out there, but nevertheless one to keep in mind, ceramic is completely non-stick and great for your health, but it's quite fragile and may break if you're not careful.
Materials
The materials used to create the grates aren't the only materials you should keep in mind.
What metals were created to build the body will make a huge difference.
The most affordable models often use stamped metal, which saves a lot of costs but is also quite thin. This means the heat can escape and you can burn yourself if you're not careful.
Cast iron is great at heat retention, but it's also quite heavy and a portable grill made out of this material will be made less portable as a result.
The same goes for ceramic.
Yes, there are ceramic grills out there. Even portable ceramic grills, but good luck daring to take them out farther than your backyard.
Now that you have all this information, you're ready to start browsing through different models.
We went ahead and reviewed 5 popular portable grill models to make things easier for you.
Top 5 Best Portable Grill Reviews

While not particularly lightweight or easy to carry around, this beautiful portable grill sure is convenient.
Offering 280 square inches of cooking surface , two work tables that guarantee your comfort, a push button ignition that makes starting the fire easily and a dome large enough to cook an entire chicken is, this grill is as convenient as they come.
Because of its size, this grill packs a lot more power than other portable grills, thanks to its 12,000 BTU stainless steel burner and the fact that it can be easily converted to work with full-sized propane tanks.
Equipped with two cast-iron grates and a griddle, this grill is as versatile as it is powerful, making it a great choice for those of you who take grilling seriously.
Pros
Large cooking area
Two side tables
Very powerful
Cons
Expensive
Very heavy
Not exactly easy to move around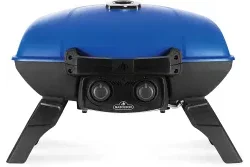 Weighing only 20 pounds and equipped with sturdy folding less and a strong locking lid, the Napoleon TravelQ is a truly portable grill.
It's lightweight enough that it can be carried with a single hand is equipped with not one, but two burners that give you more versatility and power when cooking.
Of course, even with the two burners, this grill doesn't compare to full-sized ones but that's commonplace when it comes to portable grills.
If you're wondering about why this grill is so lightweight, that's because stamped steel was used to create it. This makes it a bit more fragile than sturdier materials and also makes it get a lot hotter, so careful when cooking.
The knobs and handles are made with plastic, so they stay cool to the touch, but they also feel a little flimsy, so you should be careful when using them.
In short, the Napoleon TravelQ is a great option for those of you camping enthusiasts who are looking for a way to cook a wide variety of food without sacrificing portability.
Pros
Portable and lightweight
Compact
Powerful
Comes with folding leds
Cons
Gets really hot
Expensive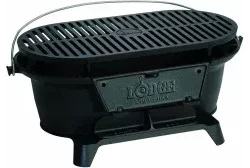 If what you're looking for is a portable charcoal grill that's straightforward and reliable, look no further. The Lodge L410 is perfect for you.
Made out of high quality cast iron, this grill is made to last, as it resists scratches, bumps and even falls. It also has 120 square inches of cooking surface, which is nothing to scoff at.
As you can imagine, this hibachi-style grill is quite heavy, weighing a whopping 33-pounds, though its compact size compensates somewhat, allowing us to call this a portable grill despite its conservable weight.
Since it's made with cast iron, it does require a certain amount of care, such as seasoning it between uses and never letting it soak to avoid rusting.
One of the best characteristics of this grill is the fact that, like larger grills, it has adjustable heights that give you more control over the temperature you're cooking with. It also comes with a draft door to help you with this.
Though not apparent in the pictures, this charcoal grill also has a built-in shelf so you can place your utensils when not in use.
The grill isn't particularly easy to assemble, though this can be a project more than a downside.
All that said, head our warning: This grill gets really hot all around so be careful when using it.
Pros
Very sturdy
Powerful
Comes with adjustable heights and a vent to control temperatures
Cons
Very heavy
Gets very hot all over
Requires special care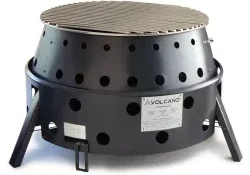 With a name as badass as "volcano", you know you're in for a treat.
This peculiar grill, which gives you 144 square inches of cooking space, can be used with three kinds of fuel: Gas, charcoal and wood, making it one of the most versatile, if not the most versatile, portable grill in this list.
The collapsible part is also a wonderful characteristic, as when completely collapsed and properly packed, this grill can fit in a comfortable carrying case that you can take with you anywhere.
It also has a push button ignition, which makes things even easier.
This is an open style grill, so you can only use it for direct grilling. However, you can still control the temperature quite well.
Weighing 26 pounds, this isn't the kind of stove you take around with you anywhere, even with the carrying bag, but it's perfect for camping or cooking in your backyard.
Even though the grill is collapsible, it's actually quite sturdy and can take a beating, which is fantastic for a grill this size.
Pros
Versatile
Compatible with three types of fuel
Ample control of temperature
Collapsible
Comes with a bag you can carry it in
Cons
Heavy
Expensive
No cover or dome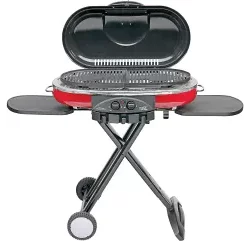 If a lightweight design is not your biggest priority, perhaps you should consider the Coleman Road Trip Propane Portable Grill.
Measuring 46x18x35 inches, this grill is far from small and weighing 53 pounds, it's not lightweight at all.
However, it's by far the most powerful grill in this list and is as close as you'll get to a full-sized grill while still keeping it portable.
What makes this grill so portable is its collapsible design, as the whole unit can collapse into a practical trolley-like design for easy transportation. Fully extended, this grill has solid legs that lift it about waist size and two side tables that give you plenty of room for your utensils and condiments.
Power wise, it offers a huge 20,000 BTUs divided between two burners, which gives you the ability to cook with direct and indirect heat alike.
If you're looking for a portable grill that you can take with you to a campsite and if you're planning on cooking for an entire family or a a group of friends, this is your safest bet.
Pros
Versatile
Powerful
Plenty of cooking space
Cons
Quite large
Only works with gas
Very heavy
Editor's Choice

Weber Q 2200

Talya Davis
Talya, like all members of the HomeDesignX team, is enamored by all things related to cooking and eating. She's written cookware articles for numerous publications before working with her lifelong friend Jessica to create their very own website on cookware.
She's currently writing a book on induction cooktops, and enjoys making clean, vegan meals for her family.